On 9 May 2021, amidst the strict pandemic safety measures, Tzu Chi Merit Organization held an online global Buddha bathing ceremony at Jing Si Hall to pray for the pandemic to end and for the world to be free from disasters. (Photo by Bong Kian Hin)
Alan Chang had been hoping for years to bathe his mother's feet but had never put it into action. This year, after logging on to the virtual Buddha bathing ceremony from home, the family prepared a little surprise for his mother. Alan Chang (pictured below) knelt and bathed his mother's feet for the first time in his life. Choked with emotion and in tears, his mother stroked his head and gave him her blessing.
While bathing his mother's feet, Alan Chang felt the magnitude of his parents' kindness and had to urge himself not to cry. But when he saw his mother crying, the tears welling in his eyes began streaming down his face. His wish over the years has finally been fulfilled.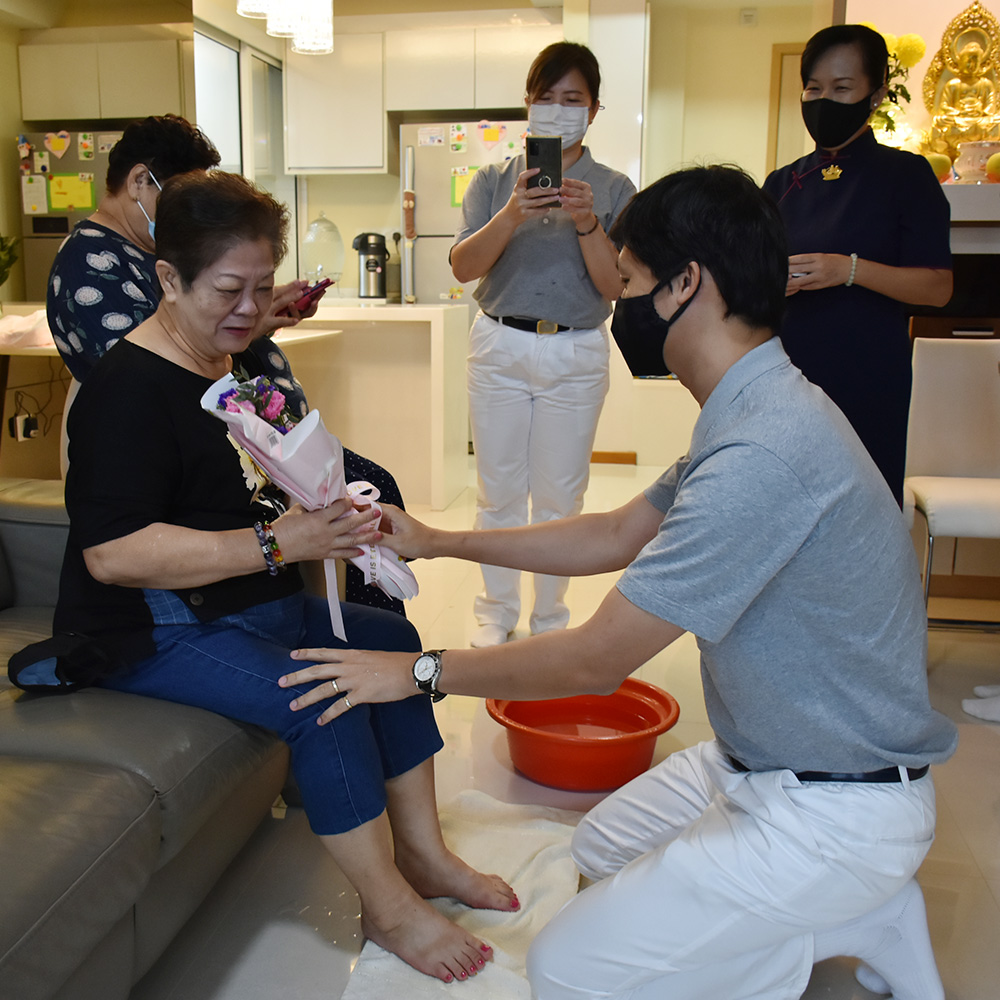 (Photo by Lee Foo Mun)
After complying with preventive measures to cope with the pandemic for more than a year, Tzu Chi's modified its outdoor Buddha bathing ceremony to meet with the safety regulations. The event was entirely shifted online last year. This year, in addition to holding a Buddha bathing ceremony at Jing Si Hall, 214 lotus spots (volunteers' home for gathering in a group of five) were also set up across the island. Volunteers took the effort to a Buddha bathing altar at home before the ceremony, and some bathed their parents' feet at home.
Volunteers cautiously manage changes to make the solemn ceremony happen
Due to the worsening of the global pandemic situation recently, there was an increase in the number of imported cases and a spread of virus variants among the community infection cases in Singapore. On 4 May, the government announced that the country would recede to the heightened alert phase 2 with additional measures introduced on border controls and tighter restrictions imposed on large-scale events and social gatherings.
The announcement to tighten the safety measures was made just five days before Tzu Chi 55th Anniversary Celebration cum Buddha Bathing Ceremony. Tzu Chi team responded to the change by scaling down the event and taking more precautions. And as planned, a virtual Buddha bathing ceremony and four small-scale Buddha bathing ceremonies were conducted at Jing Si Hall. Attendance at the onsite ceremony was capped at 100 per session, out of which 20 were staff. Despite a tightening in safety measures, everyone multi-tasked and filled in for one another to make the event a success.
At 7am, a grand Buddha bathing altar was set up at Jing Si Hall and connection was made with Hualien headquarters for a global online Buddha bathing ceremony. Many around the world gathered on this day to celebrate the annual 3-in-1 Buddha Day, Mother's Day, Tzu Chi Day. The steady drum beats of Taiwan's U-Theatre awakened everyone. Then with many locked to their screen, everyone clasped their hands to the music of 'The Incense Praise' while the Offering Group paid tribute and made offerings in solemnity.
A young participant by the name of Choong Pui Key was captured by the solemn ceremony and was moved by how Tzu Chi members are dedicated to addressing the pandemic. She finds it daunting that the virus has been transmitted from animals to humans and spread worldwide. But to look at it from another perspective, kindness can also spread bit by bit among people. So long as every individual does something kind day after day, the world will be a safe place for all. Choong Pui Key brought along with her a bamboo coin bank on this day. On her way to Jing Si Hall, she had also sent warm wishes to her mother who is faraway in her hometown, over the phone.
"It is amazing to see so many people gathered online to make vows, pray for blessings and to bathe Buddha together!" Taking part in a Buddha bathing ceremony for the first time, Goh Pick Yee was deeply moved by what she saw. As she watched scenes of others bathing their mothers' feet, she was reminded of how her parents had brought her up. She then decided that when she is able to return to her hometown in Malaysia, she will seize the opportunity to practise filial piety and bathe her mother and grandmother's feet.

(Photo by Khor Kim Seng)
Volunteers cherish the opportunity to listen to dharma through the virtual ceremony
Volunteers at the 214 locations across the island are among those who attended the online ceremony. Zoe Ong, who was drawn to the virtual event, felt purified by the ceremony. The rumbling drums and the sight of light fog made her realise her confusion about life. Ever since her husband, Lim Kok Hock, started participating in the Dharma Incense Permeation session at dawn (a daily early morning dharma talk on Lotus Sutra given by Dharma Master Cheng Yen) last June, she has been joining him and realised that she has fewer worries now. "Our hearts have been polluted layer by layer. The Master often says that we will leave the world with nothing but our karma, so we should always form positive relationships. I am now able to view things from a more peaceful perspective".
Zoe Ong's uncle was suffering from depression and hallucination. She used to have no courage to face him and would avoid meeting him. After attending Dharma Incense Permeation, she changed her mind and started to attend the sessions with her uncle. His condition has improved, and he is now less dependent on drugs. This has made Zoe Ong very grateful for having to come across the Master's teaching.

(Photo by Lee Beng Hwee)
The community leader thoughtfully arranged for the house of Ang Wei Dai (first from the left in the above photo), who is recuperating from chemotherapy, to be one of the 214 lotus points. This had delighted her as she had never missed the Buddha bathing ceremony over the years. She put on neat attire early in the morning and greeted volunteers who arrived with a lucite Buddha statue and flowers to set up the Buddha altar. Although she could not attend the ceremony at Jing Si Hall, she felt fortunate to be able to take part in the Buddha bath online from home, which felt close to her heart.
As many virus infection cases are linked to hospitals, the government has urged medical staff to refrain from participating in non-essential social activities. At Tzu Chi, volunteers in the medical and education missions had to withdraw their participation in the Buddha bathing ceremony at the last minute. Lai Shiew Mei, who works in a medical unit, had no choice but to switch from attending the ceremony at a lotus point to doing so from home. She was a little disappointed initially but reminded herself that Tzu Chi volunteers should abide by the rules. So long as everyone is sincere, thoughts will connect and the venue does not matter. Her heart was filled with reluctance and gratitude during the ritual this year as she would be returning to Malaysia the next day to spend time with her parents.
Master Cheng Yen, in her weak frame, could be seen conducting her teaching through the screen. Everyone gathered online, and their kind thoughts connected. This had reminded Lai Shiew Mei of the verse about "Bodhisattva emerging from the ground" in the Lotus Sutra. The grand scene seems to have been imprinted on her mind. Lai Shiew Mei said, "Paying respect to the Buddha has reminded me to be vigorous in listening to dharma and in serving others. I'm thankful to Buddha for coming to our world to expound dharma to all living beings. The fragrance from the flowers is a reminder that I should be pious and observe vegetarianism and also repay the Master and my parents' kindness with wholesome love."
Observe vegetarianism piously
May all join in to protect the living
To align with the preventive measures, all members had assessed their family, friends, and their own condition responsibly to decide whether to attend the ceremony. At the same time, Tzu Chi had sent text messages to confirm participation and trace the whereabouts of the attendees.
On the event day, Jing Si Hall's hallway was equipped with a temperature screening device, SafeEntry registration, hand sanitiser, and sticker identification stations. Attendees entered the hall in lines by zones and were quickly dispersed after the ceremony. After which, the whole premise was then disinfected. Despite the ongoing strict preventive measures, the warmth and sincerity of the volunteers' reception remained undiminished.
Kerk Chu Meng, who has coordinated the event for years, reflected on the sense of impermanence. "Never assume that things will happen as they should. We have to seize every chance to contribute in our everyday life." During the pandemic, there was a hovering sense of uncertainty. After consideration, the coordination team decided to keep the offline Buddha bathing ceremony open to the public. "The offline Buddha bathing ceremony resonates kind thoughts and is an expression of piety. More importantly, we hope that through the ceremony can bring comfort to the suffering and restless minds".
Cindy Cao, who hails from China, used to have the impression that bathing Buddha means pouring water over the Buddha statue using a ladle. This year, for the first time, participating in Tzu Chi's Buddha Bathing ceremony made her realised that the act signifies a cleansing of her soul. She very much agrees with Master Cheng Yen's teaching that the pandemic is a warning to mankind. She has made a vow to take more vegetarian food and has joined the reading club. She hopes to make changes in her lifestyle and learn to speak, act and live the Tzu Chi way.
Cheah Lay Huah, a Tzu Chi volunteer from Penang, attended the session with her husband, daughter and three-year-old granddaughter Qiao Zi Xin. Throughout the dharma ceremony, young Qiao Zi Xin would follow suit and participate in the ceremony quietly as others sat down, stood up, made a half bow and paid respect to Buddha even when none of her family members was near her.
A short film encouraging people to adopt a vegetarian diet was played during the ceremony. There was a part that showed the sea being coloured red with the blood of slaughtered whales. Young but sensible Qiao Zi Xin understood that the scene was meant to persuade more people to become vegetarians. To her, animals are friends and not food. She would try to persuade her father and classmates to go vegetarian.
Master Cheng Yen has been expressing her concern over the development of the global pandemic and urging everyone to be a vegetarian. After bathing Buddha in the cloud, Chief Executive Officer, Low Swee Seh thanked the Buddhist world elders for attending the Buddha Bath ceremony at Tzu Chi in Taiwan, uniting the power of religion and bringing comfort to all. He encouraged Tzu Chi members to follow Master's footsteps and repent, be pious, adopt a vegetarian diet, and encourage others to do the same. He sincerely hopes that the pandemic will end soon that there will be no more disasters in the world.